Choir
Choir 2000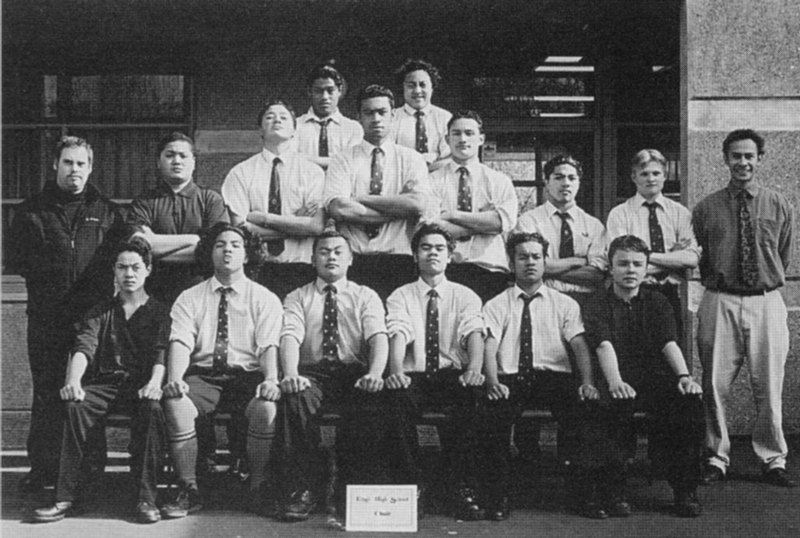 Row 3: Tutonu Talanoa, Ilai Manu
Row 2: Mr Read, Jason Faatoese, James Piho, Uili Kolo'ofai'i, Isaia Piho, Opini Toomalatai, Alax Robinson, Mr Tane
Row 1: Macphie Duffy, Leonard Panapa, Mareko Mareko, Nmeva Vaitupu, Tavita Duffy, Phillip Yates
2002
The choir at assembly
2006
Choir at Breakup – sound only
2009 – Choir at the end of year breakup.
Choir at the end of year breakup singing 'Joshua fought the battle of Jerico'
2016 Choir
Arcafellas
Ryker Green, R.V.Quijano, Thomas Green, Jake Remon, Ben Horlock, Campbell Landrebe, Riley Coughlin, Ben Telfer-Hynes, Kelland ONeil, Jordan Frost, Corey Symon, Max Beal, Zac King, Solomon King, Seiya Inoue, Bradley Taylor, Matt Newman, Solomon Baldock
Absent; Harper Halalilo-Rouvi
Polyhymnia
Polyhymnia is a combined King's and Queen's chamber choir directed by Ms Dryden (King's) and Ms Irvine (Queen's). The group was set up this year at the behest of the students who wanted to have the opportunity to perform in a mixed choir as well as tackle some more challenging music. All the King's members of Polyhymnia are also in ACafellas, and have all been involved in a wide range of musical activities, both in and out of school.
Polyhymnia perform at the Cultural Blues assembly