1990's House Groups
1990
HGe – 1990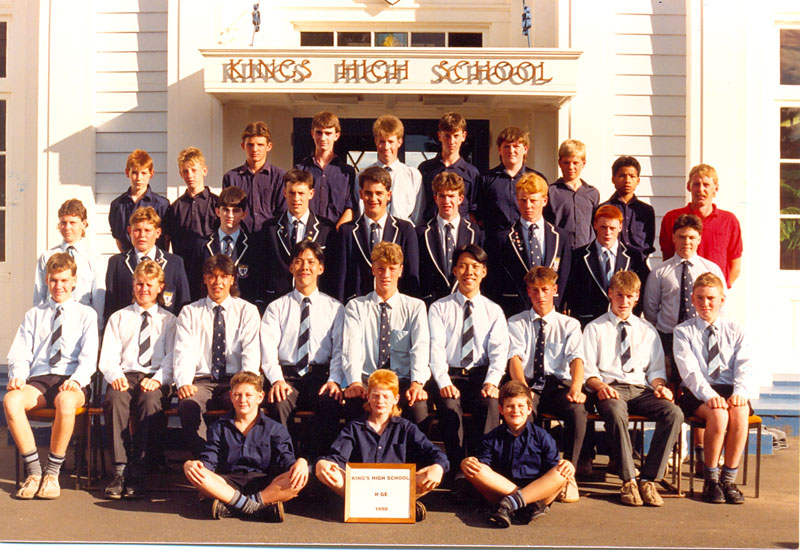 Row 4: Glenn Adamson, Pieter Barnhorn, Andrew Cowan, Richard Barrrington, Larry Bell, John Bush, Anthony Bremner, Nigel Cameron, Diem Chhay, Mr R.W. Geerlofs
Row 3: Tristan Everitt, Duncan Campbell, Michael Dent, Michael Allan, Jason Cushen, Karl Andrews, Jamie Brundell, Daniel Anderson, Shane Bums
Row 2: Antony Duthie, .Jarrod Byrne, Shayne Danielson, David Cheng, Farrell Cameron, Alan Cheng, Jason Dobbin, Brendon Cheshire, William Cook
Row 1: Sean Carey. Ricky Collie, Scott Armstrong
Absent: Andrew Crookston, Felix Sefo
Back to Top
HGn – 1990
Row 4: Mrs P.M. O'Connor, Tim Andrew, Jonathan Carroll, Jeff Allan, Robert Cameron, Chris Dick, Glen Chapman, Mrs S.M. Gasteen
Row 3: Andrew Corhett, Corey Johnston, Kyle Cameron, Richard Astle, Alan Allison, Mark Callender, Craig Dow, Antoni Bush, Ryan Boyce.
Row 2: Brett Allcock, Jason Crawford, Jason Cairns, Michael Brown, Brendan Downs, Dean Bell, Simon Cuthbert, Paul Blasby, Shane Arthur.
Row 1: Ryan Cox, Michael Bardrick, Craig Aitchison, Craig Burke, Michael Carr, Regan Baulch
Back to Top
Back to Top
HHu -1990
Row 3: Shanon Arnold, Rhys Billyard, Andrew Brown, Poki Bruce, Glen Blasby
Row 2: Lindsay Brown, Andrew Davis, Andrew Fraser, Aidan Arnold. Stuart Crooks, Aarron Darling, Carwyn Cropley, Shaun Barclay
Row 1: Ricki Brundell, Jeremy Burdett, Jason Coombe, Michael Cartwright, Peter Benfell, Simon Cushen, Matthew Clark, Nathan Bryan, Stethan Brown
Absent: Grant Ashton, Cliff Cameron, Marc Carran, Paul Clearwater, Shannon Cunningham, Scott Dow, Mark Christian
Back to Top
HKe – 1990
Row 4: James Broome. Terry Agnew, Robert Bates, Mark Cooper, Bill Collins, Mark Duncan, Daniel Carruthers
Row 3: William Beazley, Nathan Colet, Mark Aitcheson, Nathan Drysdale, iodie Aitken, Ross Colquhoun. Karl Billyard, Mark James Cleghort. Matthew Bond
Row 2: Joshua Campbell, Greg Clearwaler, Corey Brown. Dean Aitcheson, Simon Clarke, Corey Chalmers, Darryl Angus, Jason Boyce, Patrick Donaldson
Row 1: Chris Booth. Tony Allison. Daniel Burden. Shanon Bell. Kendall Grant. Shannon Bryson. Manoli Aerakis
Back to Top
HNy – 1990
Row 1: Mark Didham, Nigel Benfell, Mr S. Nyhof. Craig Allan. Scott Cowan
Row 2: Steven Baxter. David Bevin, Slephen Crawford. Mark Crookston, Geoffrey Callender, Carl Duffy, Robert Cain
Row 1: Michael Dawson, Grant Amos, Chris Buchanan, John Duthie, Peter Grant, John Faulks, Nicholas Collie. Aaron Bath
Absent: Kerry Callender. Tony Anderson, Samuel Brown, Shane Child, Geoffrey Craig, Nicholas Cronin, Simon Eder, Nigel Edge
Back to Top
HPl – 1990
Row 3: Matthew Coory, Jamie Blair, Jason Colston, Alistair Barrett, Grant Danielson, Jarrad Drew,Justin Cooper,Chris Campbell
Row 2: Liam Corkery, Jason Anderson, Anton Clenienger, Sean Andrew, Jodie Duff, Alec Charles, Peter Kcnnedy, Stuart Broome. Mrs H Pollock
Row 1: Arrin Blair, Brendon Cross, John Aitcheson, Andrew Elliot, Regan Boucher, Chris Duti, Jason Burton, Steven Broadley, Brendon Cameron
Absent: Kevin Charnley, Greg Ashton. David Cameron, Ben Drake
Back to Top
HRs – 1990
Row 4: James Bell, Jason Coutts, Paul BraselI. Chris Dick, Tmothy Aitken, Kent Chalmers.
Row 3: Allan Docherty, Ross Aiken, Jonathan Bracey, Michael Bracey, Duncan Burck, Blake Cameron, Steven Chapman, Mr D.E. Ross
Row 2: Paul Cameron, Michael Donaldson, Jeramy Dalwood, Craig Dick, Jason Berry, Paul Dowie, Jason Cowan, Paul Helm, Jason Child, Graham Bagley
Row 1: Paul Crichton, Jason Dickson, Cameron Black. Michael Barr, David Dougherty
Absent: Glen Archer, Logan Bagrie. Stuart Black, Michael Bray, Nicholas Burns, Sam Duffy
Back to Top
SCl – 1990
Row 4: David Gwynne, Dean Hotton, Baydon Harris, Glenn Hughan, Nathan Gillan, David East, Graham Hart
Row 3: Mark Johnston, Corey Daggar, Robin Eastwoodt, Robert Harding, Mark Ireland, Aaron Gee, Douglas Hill, Brian King, Robert Ford
Row 2: Daniel Clarkson, Shane Gaudelius, Jason Haar, Chris Holdsworth, Ashley Jowsey, Steven Harris, Darryl Stewart, Dean Faulkner, Ross Graham
Row 1: Craig Ellis, Stewart Gibbs, Joshua Jones
Absent: Reece Freeman, Justin Hannon, David Leach, Jairo Mora
Back to Top
SDi – 1990
Row 4: Micheal Jones, Dean Hand, Kal Keith, Damon La Rooij, Brent Green, Mr A.W. Dickinson
Row 3: Paul Fairley, David Hurring, Daniel Hardwick, Toby Kelleher, Richard Harding, Martin Lester, Leonard Gullen, Brendan Jeffery
Row 2: Bradford Jones, Alun Kennedy, Craig Lawson, Blair Jelley, Andrew Fletcher, Marc Archbold, Raymond Key, Courtney Lousley, Piotr Mierzejewski
Row 1: Stephen Dougheriy, Terry Hodgins, Steven Dixon
Absent: Dallas Gardner, Rodney Gibbons, Andrew Hedges, XXXXX XXXX, Scott Eder
Back to Top
SGy 1990
Row 3: Andrew Johnston, Cory Fitzgerald, John Hyslop, Tane Gray, Chris Howarth, Alcanda Higgan, David Dutnie, John Kaye, Blair Davidson
Row 2: Kevin Hart, Tony Galland, Christopher Deans, Chris Gould, Wayne Allison, Brian Keenan, Daniel Johnston, James Girling, Hayden Kaglund, Mr J.A. Gray
Row 1: Micheal Loo, Matthew Henderson, Terry Grey, Paul Jowett, Adam Gain, Chris Lind, Jason Hayward, Brendon Hamilton, Niell Graham
Absent: Manu Hunter, Mark Jolly, Andrew Lui
Back to Top
SHa – 1990
Row 4: Daniel Kenna, Riki Gooch, Daryl Hackett, Jason Fallowtleld, Blair Hurndell, David Henderson, Paul Low
Row 3: Nathan Hellyer, Jason Gray, Aubrey Gray, Brian Hall, Phillip Gibbs, Mark Griffin, Owen Harvey, Mr J.R. Hagart
Row 2: Chris Harley, Geoffrey Laverty, Joe Fitzsimmons, Braddan Gray, Rhian Hinkley, Michael Lilly, Callum Haddow, Nicholas Lobb, Danny King
Row 1: Jonathan Gilks, Philip Frost, Chris Gray, Gary Fitzwilliam, Daniel Harvey, Danny Grace, Mati Hutcheson
Absent: Brcndon Halkett
Back to Top
SHm – 1990
Row 4: Rodger Hallberg, Sauleone Collins, Neal Kaler, Bruce Hurrell, Russell Grant, Stace Gale, Daniel Forbes
Row 3: Mrs Mrs. J. M. Atley, Scott Fergus, Tony Gardener, Gary Grant, Robert Harvey, Dougal Haddow, Anthony Henderson, Miss S.E. Hume
Row 2: Gavin Lumsden, Simon Grant, Riki Loper, Matthew Dillon , Steven Gresham, Craig Finnie, Daniel Lower, Mathew Hessian, Jonathan Huntley
Row 1: Shaun Findlay , Nathan Harris, Simon Murray
Absent: David Hore, Janies Lambie, Paul Lodge
Back to Top
SOs – 1990
Row 4: Dale Jelley. Allan Gibson, Eric Harris, Stewart Fletcher, Leighton Hewett, Jamie Kinghorn
Row 3: Reece Davison, Shane Jowett, David Gullen. Aidan Koni, Wayne Bennett, Tony Deans, Michael Fuller, Regan Findlater, Mr J.W, Osborne
Row 2: Reuben Kinghorn, Aaran Duncan, Robert Larsen, Peter Lewis, Richard Geeves, Darren Frazer, Brent Fleming, Robert Hore, Jason Familton
Row 1: Damon Findlater, Bob de Groot-Green
Absent: Dale Finlayson, Peter Hore, Norman Hurst, Pakasit Hobin
Back to Top
SPa – 1990
Row 3: Nathan Johnston, Chris Haar, Matthew Hatu, Peter Gillespie, Nathan Farrell, Alistair King
Row 2: Chris Harding, Paul Hurley, Jonathan Hall, Michael Gibbs, Steven Gage, Richard Kay, Stuart Fulcher, Mr T.E. Parkinson
Row 1: Daniel Kerr, Brent Gibbs, Brendon Gillan, Jeremy Julin, Michael Dasler. Lyndon Fairbairn,Aaron Fitzgeraldt, Bernard Klemick, Martyn Kaglund
Absent: Jason Lockhorst, Callum Edmunds, Glen Ford, Kees Green, Antony Fletcher
Back to Top
TAt – 1990
Row 4: Ryan Middlemass, Chris Klier, Matthew Lewis, Daniel Metua, Matthew Leach, Hayden Kirkman, Telagi Papau, Kristian
Row 3: Tristian O'Reilly, Nick Lawson, Craig Mathieson, Darren Read, Andrew Robertson, Martin Pacey, Cameron Munro, Nathan McEntee, Mr D.I. Ashton
Row 2: Trevor Page, Stephen Meehan, Nathan Marshall, David Propsting, Duane Marshall, Peter McGrouther, Kevin Mably, Paul MacMillan, Dane Moodie
Row 1: Daniel Selcraig, Andrew Paterson, Garrath McArley, Corey O'Leary
Back to Top
TBg – 1990
Row 4: Aaron Preedy, Aaron McCaughan, David Kirk, Tim Morris, Stephen Melville, Chris Mackle, Glen Jones
Row 3: Jarrod Olliver, Kelvin Mears, Jason Mather, Eion Park, Jeffrey Moen, Richard Milmine, Phillip Rogers, Mr P1, Bainbridge
Row 2: Scott MacLean, Arron McGregort, David Nicholls, Peter Rawling, Clinton Marston, Sapina Raeli, Anthony Rodda, Kieron Mitchell, Stefan Flewitt
Row 1: Luke Flanders, Jason Riley, Nathan MacKenzie, Corey Maynard, Mark Delaney
Absent: Timothy Marsden, David Marsh, Tony McCombe, Richard O'Donnell, Harold Offen, Chris Patterson
Back to Top
TId – 1990
Row 3: Jamie Phillips , Trevor Penny , Jarrod Robertson , Steven McBratney , Brendon Monson, Blair McKeever, Ashley McLachlan , Robert Ng-Shiu
Row 2: Roger Miller, Tane Loper, Chris Rae, Michael Marshall, Nigel Miller, Victor McDonald, Alan Paull, Glen Moir, Mr M. A. Idour
Row 1: Wayne Phillips, Aaron Pool, Chris McLellan, Craig McDowall , Andrew Melville, ,lustin Miller, Tony Rae, Nicholas Maynard, Brian Roulston
Absent: Justin Ide , Callan Lloyd , Jamey O'Brien
Back to Top
TKo – 1990
Row 4: John Lobb, Ryan Mason, Michael Lawson, Richard Keen, Stephen McAuslin, Stesen O'Brien, Kheang Ov
Row 3: Robert Millar, Jason Partel, David McBride, losua Pagaralii, Tony Mason, Warren Olds, Quinton Ritchie, Greg Marsden, G.R. Koedyk
Row 2: Aubrey Mercer, Glen Moody, Ben Robertson, Edward Raeli, Chris McGregor, Douglas Metimeti, Andrew Page, Martin K Darryn Ross
Row 1: Craig Miskell, Andrew Meehan, Sieu Tran
Absent: Cory McEachen, Wayne McMillan, Gavin Mockford, Carl Tily, Peter Paruta, Nigel Partridge
Back to Top
TLe – 1990
Row 4: Cory Mcintosh, Che Masina, Corey Parker, Dene McDonald, Derek Lester, Leighton Dutratn, Nathan Muir. Andrew Noronha
Row 3: Richard Murray, Mathew Paterson, Ben Powell, Cohn Paul, Andrew McCombe, Geoffrey Palmer, Jason McFadyen, Kelvin MacLaren, Mr D.R. Levick
Row 2: Adrian McCaughan, Nathan Renfree, Casey Mee, Chris MacLean, Calum Ricketts, Tenzin Mulin, Aaron McTainsh, Michael McQueen, Blair Mitchell
Row 1: Stewart Milne, Daniel Mitchell, Dean Mooyman
Absent: Dallas Price, Gerald Marychurch, Aaron McGuinness, Steven McQueen, Nathan Millar
Back to Top
TPE – 1990
Row 4: Tony Ngatae. Toru Ngatae, Hayden Mills, Simon Olsen, Alan Puaa, Bruce Ladbrook, Im Ouk
Row 3: Leighton Jones, Mark McLay, Sam Sala, Lloyd McPherson, David Rosie, Clinton Rhodes, Mike Palmer, Shannon Murray, Mr A.R. Pelvin
Row 2: Blair Martin, Justin Culpan, Justin Powell, Craig Prestidge, Jeremy Muir, Kelvin Mann, Wayne MacAskill, Luke Merriman, Michael Rells
Row 1: Jamie Kelly, Matthew Leith, Brendon Marsh
Absent: Todd Maxwell, David Pitcaiihlv, Peter McTavish
Back to Top
WBr – 1990
Row 3: Joseph Siologa, John Strachan , Nathan Vincent, Glenn Tod, Mark Skelly, Eddie Westrupp
Row 2: Hadley Thomson, Richard Tusani, David Simms, Philip Winter, Brett Tumaru, Theodore Theropoulos , Kelvin Trevathan, Mr R.E Brooks
Row 1:: Tony Tautari, Shaun Webb, William Tokona, Roddy Scoles, Nayland Smith, Caleb Stuart, Bradley Wilson, Troy Still, Colin Sanson
Absent: John Wilson, Kirk Stuart, Cite Third, Jason Wallace, Jeffrey White, John Wiparata, Parata Ng-Shiu
Back to Top
WCx – 1990
Row 3: Stephen Smith, Dayl Shillito, Michael Tippett, Mark Weatherall, Brent Wilson, Cory Stewart, Tasi Senituli, Mr J.G. Cox
Row 2: David Waide, Darren Smeaton, Glen Strang, Gerhard Schweigman, Chris Taylor, Anthony Simpson, Jeremy Sullivan, Jamie Verhoef, Shane Williams, Gregory Wilkinson
Row 1: Mark Taylor, Robert Taylor, Jeff Sayer, Jacob Wright, Rex Sinclair, Paul Williams, Dean Stuart, Mark Williamson, Timothy Warren
Absent: Chris Stuart, Brett Swinden, John Tutaki, Gregory Watts, Kyely Williams, Kevan Verry
WKy – 1990
Row 4: Craig Tomlinson, Shane RangL Craig Somerville, Brent Sanderson, Mike Te Nana, Darren Wilden, Russell Shum
Row 3: Mr G.D. Kyle, Andrew Sparks, Jamie Smith, Brent Webster, Richard Wilmshurst, Richard Watt, Richard Semple, Ricky Reeves, Greg Stedman, Chris Smith
\row 2: Robert Shum, Craig Stumbles, Darren Smith, Peter Robertson, Terry Smith, Logan Sisley, Lindsay Tilbury, Scott Wilkinson, Nathan Saunders
Row 1: Darren Tautari, Brian Taurarii, Tod Walker, Grant Taylor
Absent: Mike Rongo, Timothy Squires, Bevan Stcwart, Robert Thomlinson, Matthew Thornicroft, Dayle Wilson, Wayne Wilson
Back to Top
WMi -1990
Row 4: Kyle Rodger, Richard Walker, Paul Williamson, Julian Smith, Regan Taouma, Kingsley Stevenson, Tony Vial, Damon White
Row 3: Greg Trounson, Mark Scott, Nicholas Switalla, Alister Wilden, Haydn Stevenson, Darryl Sutherland, Jolyon White, Darryn Tomlinson, Mr D.J. Mills
Row 2: Grant Sutherland, Aden Shillito, Todd West, Keiryn Scott, Terry Smith, Jason Tutty, Justin Simon, Greg Ward, Michael Smith
Row 1: Rhys Wilson, Scott Rae, Peter Waide
Absent: Christy Tait, Boyd Warren, Mark Williams
Back to Top
:
WMs – 1990
Row 3: Robert Williams, Bradley Stewart, Gary St John, Dallas Wilson, Jonathan Ross, Michael Taylor
Row 2: Dean Strang, Michael Swinden, Bevan Williams, Wayne Walsh, Karl Summers, Glen Walker, Brendon Scott, Danny Tsang, Mr G.T. Mason,
Row 1: Kurstyn Stedman, Michael Szavay, Daniel Wilson, Justin Stott, Chris Washington Michael Sharp, Paul Sammes, Clinton Sheehy, SefuluTuiavii
Absent: Marlin Sparks, Vaughan Ross, Damon Templeton
WPn – 1990
Row 4: Michae] Warren, Shaun Scott, Donovan Turner, Scott Watkinshaw, Cory Taylor, Jaden Welham
Row 3: Gary Soal, Brendon Williamson, Daniel Stewart, Gregor Sinclairt, Glenn Squires, Matthew Scott, William Stephens, Mr A.R. Parsons
Row 2: Brett Sinclair, John Trompetter, Hamish Wells, Robbie Waide, Shane Smith, David Smilie, Mark Renfree, Greg Webber, Evan Taylor
Row 1: Huy Le, Kevin Woodford, Carey Winter
Absent: Faron Stent, Mark Wilson
WSw – 1990
Row 4: Aaron Torrance, Laughlan Wesley, Michael Whalley,Tony Swift, Jason Waide, Nathan Todd, Patrick Rae, Marc Stevenson
Row 3: Jonathan Wilde, Alistair Wakefield*, Alani Senituli, Glenn Smith, Tony Sieffens, Nolan Ratu, John Trounson, Nathan White,Mr T.S. Swain
Row 2: Jason Tamblyn, Phillip Smith, Jamell Wilson, Moe Uriaro, Kupu Vanisi, Joseph Waide, Graeme Shum, Glenn Simon, Stephen Wilde
Row 1: Peter Oxley, Stephen Thornley
Absent: Matthew Ravenwood, Tom Smillie, David Wilson, Dean Wilson, Robert Urquhart
Back to Top